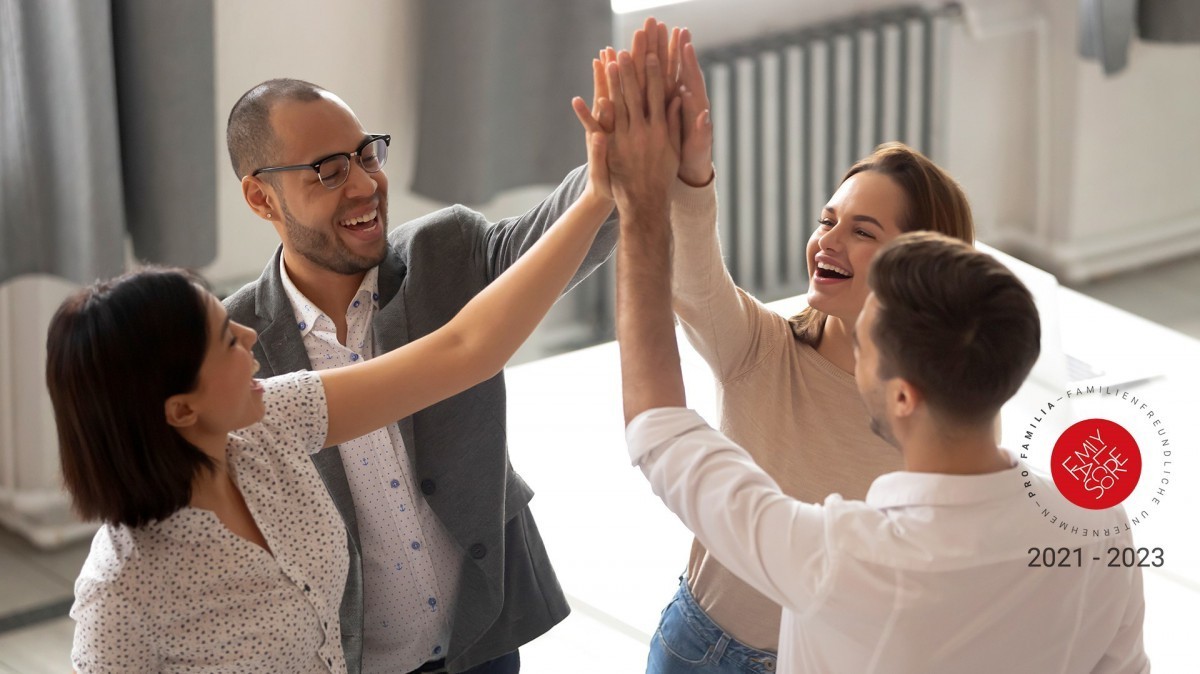 Reka offers exciting jobs
and opportunities
With us you can make a difference and grow further
With Reka Money, our holiday offer, social commitment and a strong traditional brand in the changing digital age, we offer a very exciting environment. There is a wide range of fields of activity and challenging tasks that will help you advance in your career. You will also meet interesting people with very different skills and backgrounds who work together in an interdisciplinary way. We maintain an open culture where everyone can get involved and take responsibility.
Flexible working models and a modern corporate culture
Benefits
Employees receive discounted Reka-Money for holidays, leisure and meals. What's more, Reka pays 60% of the pension fund contributions, and the premiums for the daily sickness allowance and the non-occupational accident insurance are not deducted from wages.
Teamwork
With us, everyone can get involved and be taken seriously. We encourage interdisciplinary discussion and maintain an open and family-like atmosphere. We have flat hierarchies, are on a first name basis with each other and are committed to good team cohesion.
Our values
At Reka, we have very different skills, training types and qualities but we are all united by esteem, target orientation, consistency, vision, trust, resilience / critical ability, passion and our sense of responsibility.
Part-time work
We strive to enable our staff members to combine career and family. This is why we offer flexible work models such as job-sharing for example and part-time jobs – as well as in management positions.
Training
It's important for us that our employees have the opportunity to develop further, both profes-sionally and personally. We offer support and give employees the chance to grow within the company.
Non-profit
As a non-profit organisation, all our earnings go towards providing the discount on Reka Money, sustainable investments and the Reka Foundation for Holiday Aid. This enables people with a low income to enjoy subsidised holidays.
Holidays and Leisure
Our staff members have 5 weeks holidays. Apart from this they can buy holiday weeks. Every five years we give employees a loyalty bonus in the form of time or money, including time spent in training or traineeship.
Family
Our female staff have 16 weeks' maternity leave, and their male colleagues four weeks' paternity leave, both with full pay. Up to the age of 12 years, we also pay a monthly child support credit for children. For the care of sick or elderly family members we grant paid days off.
Mobile Work/Home Office
We support local work flexibility. Our employees can occasionally work outside the actual workplace, be it another Reka location, in between or at home.





Proportion of women in management positions
Frequently Asked Questions
Where do I apply if I would like to work at a Reka holiday resort?
You can contact the respective holiday village directly. The hosts are looking forward to your application.
Can I also do a traineeship at Reka?
We also offer traineeships, usually as part of a commercial apprenticeship. Further traineeship assignments are to be clarified on an individual basis depending on the specialist area and possibility. It is best to contact us.