Reka in facts
and figures
We stand for fairness and sustainability
Eight out of ten people in Switzerland are familiar with Reka Money and every seventh family spends their holidays at one of our facilities. The unique combination of the two business segments, the recreational allowance and Reka Holidays, is highly trusted by our customers. This positive image is due to the fact that our non-profit organisation has been providing forward-looking benefits fairly and reliably for decades.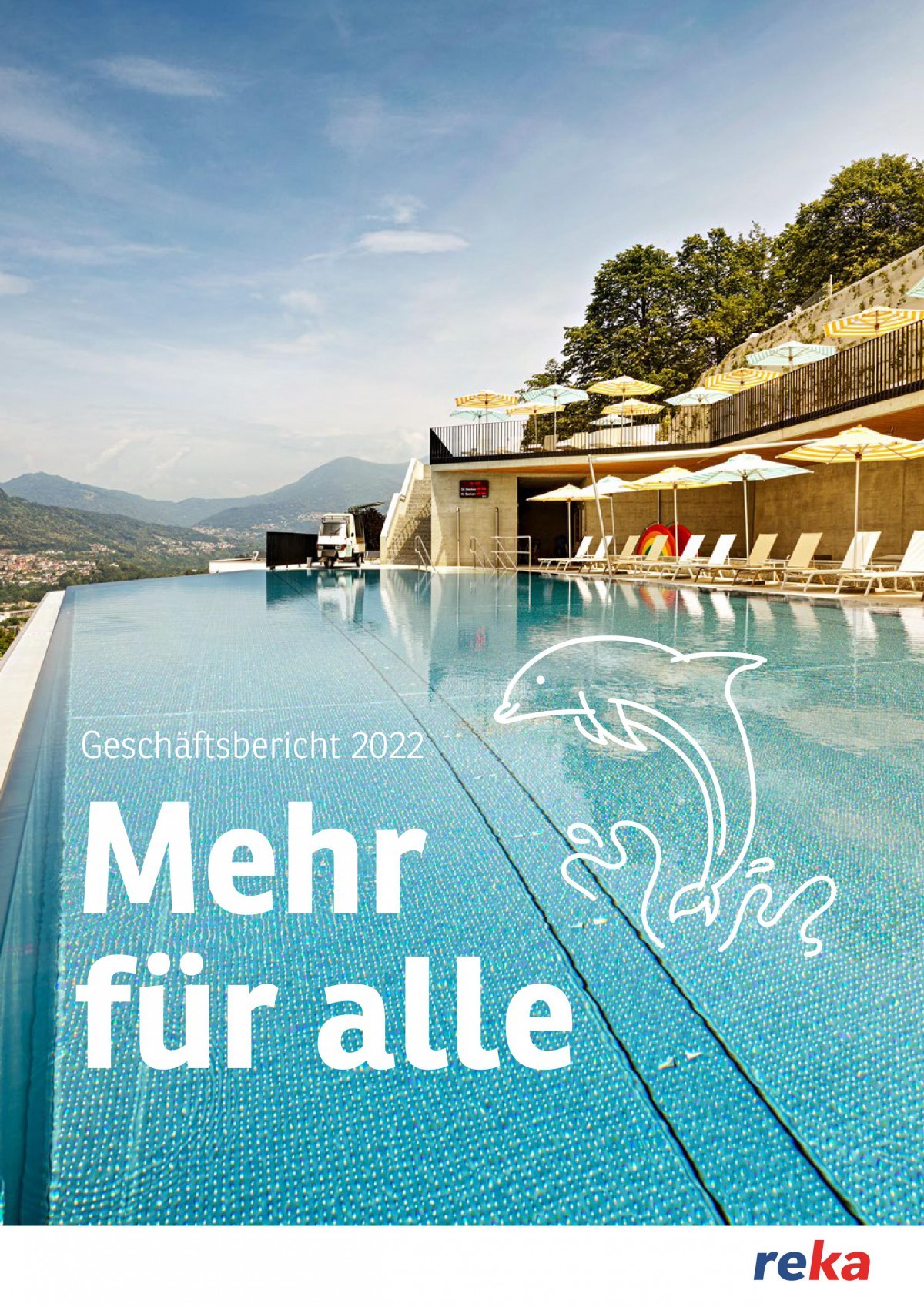 Further key figures for 2022 (2021)
Further key figures for 2022 (2021)
Net sales CHF 117,5 million (CHF 126,1 million)
Gross profit CHF 81,1 million (CHF 89,4 million)
Net result CHF 0,9 million (CHF 11,6 million)
Sales volume Reka Money CHF 478,1 million (447,8 million)
Overnight stays at Reka Holiday resorts 968,822 (1,091,269)
Company form and structure
The Swiss Travel Fund is a non-profit cooperative, supported by an ownership structure based on social partner-ship. Several subsidiaries and foundations are affiliated with this cooperative.
Broadly-based cooperative structure
Reka Group companies and institutions:

Swiss Travel Fund (Reka) cooperative
(parent company, operation of the cash business and major parts of the holiday business)
Swiss Holiday Park AG
(Operation of the Swiss Holiday Park resort, Morschach)
Golfo del Sole S.p.A
(Operation of the Golfo del Sole resort, Follonica, Italy)

Affiliated companies of the Reka Cooperative

Holiday Village Urnäsch AG
(real estate company, 42% of the share capital)
Holiday Village Blatten-Belalp AG
(real estate company, 50% of the share capital)

Reka Group foundations:

Reka Foundation for Holiday Aid
(holiday assistance for economically and socially disadvantaged people)
Reka pension fund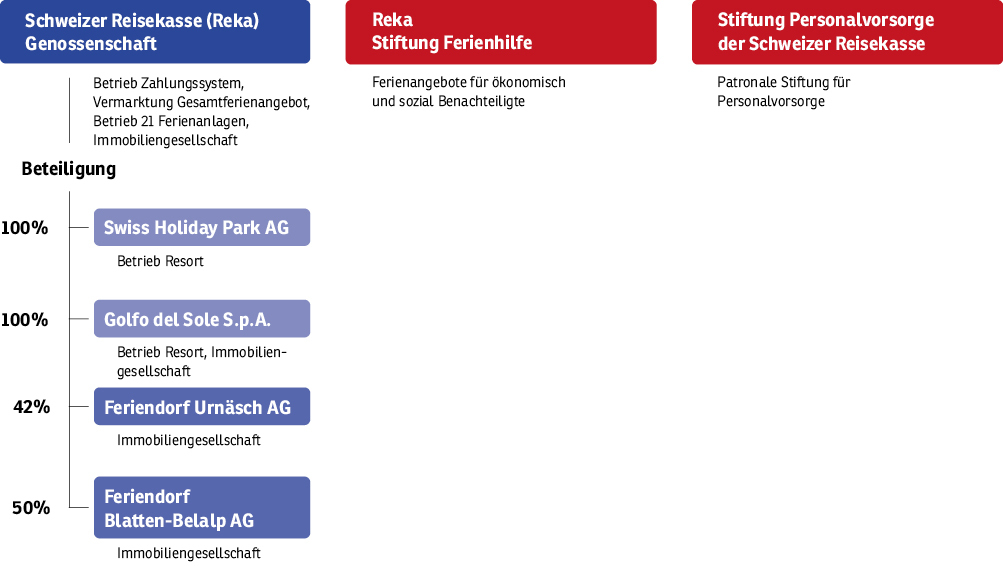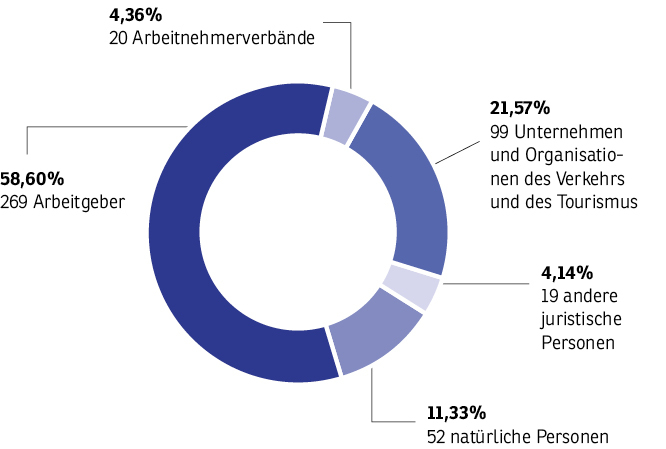 Broadly-based cooperative structure
The Reka cooperative, founded in 1939, is unique in terms of its corporate purpose. This is also reflected in the ownership structure, which is based on social partnership. The members of the cooperative consist of compa-nies, employee associations, service providers, organisations from the transport and tourism sectors, other legal and natural persons. The cooperative members waive a return on their shares in favour of the non-profit pur-pose of the company.
Management and Managerial committee
The Management and Managerial committee are responsible for the strategic management and operational supervision of the cooperative. In organisational terms, the company is divided into two business units, Reka Money and Reka Holidays. In addition, there is the Finance support unit. Management oversees the company within the framework of the Articles of Association and the Operation Rules.
Dr. Marcel Dietrich
Chairman
Claudia Hofstetter
Vice Chair
Members of management
as of April 28, 2023
Dr Marcel Dietrich*, Chairman
MDP Advice
Claudia Hofstetter*, Vice Chair
Unia
Luc Pillard*, Vice Chair
Coop
Judith Bass
Alliance F
Alberto Bottini*
SBB
Daniela Bräm
AXA
Markus Brügger
Staff Association of the
Federal Government
Judith Bucher
vpod
Aroldo Cambi*
SEV
Olivier Cosandier
Tissot SA, Swatch Group
Prisca D'Alessandro
Swiss Commercial Association
Andreas Gerber*
Credit Suisse



* Members of the Managerial Committee
Dr Thomas Hill
AVIA Association, Fritz Meyer Holding
Christa Hostettler
PostAuto AG, Swiss Post
Sibylle Hug
SBB
Philipp Iseli
Unia
Rico Jäger
Manor
Nicole Kamm Steiner
ABB Schweiz AG
Dr Jörg Ledermann
Coop
Peter Lüthy*
Novartis Pharma AG
Patrick Marro
Vaudoise Insurance
Claude Meier
hotelleriesuisse
Daniel Münger
syndicom
Manuel Murer
Transfair
Martin Nydegger*
Swiss Tourism
Andreas Reber
UBS
Dr Berno Stoffel
Seilbahnen Schweiz
Ueli Stückelberger*
Public Transport Association
Goran Trujic
Unia
Armin Weber
SBB
Thomas Weber*
Coop
Urs Wülser
F. Hoffmann-La Roche
Adrian Wüthrich*
Travail.Suisse/Syna
Reto Wyss
Federation of Swiss Trade Unions
Stefan Distel
Head of the business division Reka Money
Damian Pfister
Head of the business division Reka Holidays
Stefan Friedli
Head of Finance
Christina Gnädinger
Head of Human Resources, member of the extended executive board
Christian Loeffel
Head of IT, member of the extended executive board